Turns out I have some spare time to pull my thoughts together today, so hi!
You are here, or one hours drive away from it
I'm traveling for work again, down in Orange County, CA.  The trip is for three weeks but Fern is coming down for the week in the middle, so the second week will be equal parts debugging and Disneyland, upgrading servers and Universal Studios.
Flying into LAX I had the realisation that everywhere I go is an hour away from a major airport.  I live 1 hour from Toronto Pearson, Hamilton NZ is 1 hour from Auckland International, whenever I go to Houston, it's a 45 min cab ride downtown, etc.   More businesses need to be near airports.
Rental car buddy
To get to rental cars at a large airport you generally get onto a bus or train, which takes you to the off-site lot.  I waited for and got on the Avis bus and sat down in a row of five seats, between two men in business attire, two seats to my left and right.  The guy on my left was a larger gentleman with a briefcase on the seat next to him; the guy on my right was wearing a black turtleneck with suit jacket.
At the next stop a family got on board, including a baby carrier and a small duffel bag.  The driver tried to volunteer to put the duffel bag on the luggage shelf but the woman said "There's a dog in there".  This wasn't a Paris Hilton-esque handbag; it was fully zipped up with no evidence of holes or windows!
Guy On My Right said "They bought the whole family, kids and the dog".  I obviously misheard, as I said "There's a dog in that bag, too."  He said, "That's what I said".  I said "Oh."
At the next stop, another couple got on, and I expected they would want to sit up the front so as not to need to climb over the baby-and-dog show.  However, they chose not to, and found seats down the packed end of the bus.  I made a comment to Guy On My Right to the effect of "Fine, I'll stay sprawled then".  He said, what did you say?  - I said "stay sprawled out over these seats".  He said, "Oh".
We didn't try and speak to each other again.
Hotel
My hotel room is 321, and when I was waiting at the elevator, I saw it was 3:21pm.  I love coincidences.
At 4:30pm the bedside clock radio alarm went off.   Who sets their hotel alarm clock for 4.30pm and leaves it?  Note to self: always check the alarm time first thing on arrival. I set it for 7am.
Then it went off again at 7pm.  Second note to self: make sure the idiot before you got AM and PM the right way around.
I have, however, found a good use for the clock radio - I drove past a big digital billboard advertising 100.3 The Sound, announcing it was playing "One Tree Hill" by U2.  An album track on commercial radio is a bit odd, so I listened further - turns out to be a great music station.  Later that evening I was listening to Chris Cornell presenting "My Turn", rocker-plays-DJ for the evening, and amused to learn that "Ladies of the World" by Flight of the Conchords rates up there in Cornell-world.
The next morning I entered half-asleep-half-awake state at 5am (my body clock's 8am) with a dream I was listening to a Flight of the Conchords interview on the radio.  It felt strangely real.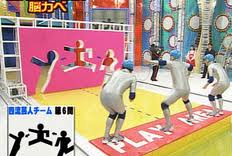 What's on?
What else to do on a Sunday evening while eating dinner?  Watch TV, of course.
It's hilarious when it's highlights and they aren't speaking English.  It's just sad when it's "soccer moms" vs "hip hop dancers".  And that ain't "human tetris".  This is human tetris!
Crap TV redux
Apple founder Steve Wozniak (the larger, bearded Steve) is competing in Dancing With The Stars, and according to the Internet he's woefully bad but puts his heart into it.  Sounds like Rodney Hide!  However, you know how cults of celebrity work, especially ones that can figure out how to ballot-stuff, and he's likely to get the highest audience vote week-to-week.  I watched the first few minutes of the elimination show before realising that I found watching dancing completely boring, and further, this show had aired 3 hours ago on the east cost, so I could just go to the Internet and read the results.  Which I did.  Woz remains, no watching required.